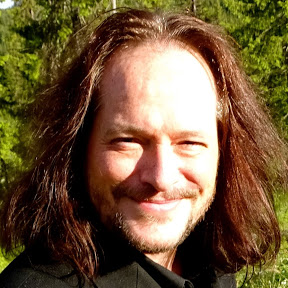 Ananda Bosman is a Visionary, Cosmologist, Semantic Artist, International Researcher & as an Award-winning Musician the Founder of the 432Hz popular & electronic music movement during the 1990's. 
Until September 2019 he was also an active Member of the Board of Directors for the non-profit contemporary Arts & Cultures Magazine "New Observations", NYC/USA, which is dedicated to bringing artists' voices to the public forum through an innovative guest edited magazine, first time published in 1981.
Ananda Bosman's latest peer reviewed research of 2018/2019 is currently in the process of being published after his presentation at the University of Québec in Montréal, Canada in October 2018. 
Appearing in international radio broadcasts , TV productions & cinema movies, he is regularly invited as keynote speaker on many international conferences. Since 1990 he has given hundreds of lectures, seminars & workshops all over the world, using state-of-the-art multimedia presentations that rivet the audience. Presenting visionary, scientific, shamanic, spiritual, mythological, & cosmological connections in an exciting and utterly unique way.
Read more
"I was delighted. The ideas you gave me have been so important for me, and my task now is to present this in a very simple, humane manner, through lectures and writings."
"Ananda's application of methods in Projective Geometry to modeling certain aspects of the "descent" from the implicate order into 3D space-time will form a new aspect in my studies. I have been following up many of the "links" Ananda has mentioned and can state in all honesty that the teachings have to this day a great impact on my life."
"This is an Important Venture."
"Ananda's multiple density, Vortexijah Model, and hyperdimensional model is a revolutionary breakthrough in the making. An extraordinary visionary scientist, we have been waiting for one like him for some time"
"Most inspiring lectures with a richful basket of fascinating thoughts and insights. By using modern and advanced technology Ananda presents the collective wisdom of all the great traditions. I would like to call Ananda 'The Compassionate and Lucid Gate-Master to all Existing Cosmologies."