Ananda's Interview with American Radio Station Sanitas Radio on air now!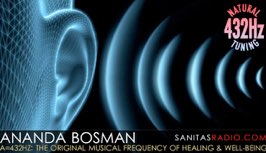 In this Radio Show Ananda has a 2 hour discussion with Sanitas Radio Host Me Fabregas about:
The 432Hz & 8Hz AUMega Music  and his Vision for the Future of Music!
The first hour can be listened by everybody, the second hour is only open to subscribers of

Sanitas Radio.